⏰ March 9th, 2023
📒 Data centre news
Today the AlexHost.com team is raising an important question about the domain name. We decided to dwell on this issue in detail.
We all know the addresses of the streets where we live, we all remember the addresses of our offices, but are we ready to memorize a complex algorithm of numbers, letters, signs in order to visit the sites we need?
A domain is a unique name, address, directory, which is the Internet address of a website or any other Internet resource. Domain, allows users to access a website or any other resource by simply typing the domain name in a web browser into the search box, instead of having to remember a complicated numerical algorithm IP address (Internet protocol address) – a device's unique address. (usually a computer/server) connected to a local network or the Internet).
The main purpose of a domain is to identify the uniqueness of a web resource on the Internet.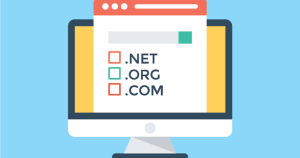 Where is a domain name used and what is it for?
A domain name is a tool that is provided to the user for the convenience of remembering a complex root address, and a tool for gaining access to a certain unique web resource. This name is used to identify or recognize web resources.
What is a domain name made up of? 
A domain name consists of two independent parts, but both are very important in their own way: a top-level domain (TLD) and a second-level domain (SLD).
TLD (top-level domain) is the final part of a domain name that indicates the type or purpose of a web resource, for example:
.com – mostly resources for commercial use

.org – resources for various organizations

.gov – resources for government and public services

.edu – mainly resources for educational institutions
SLD (Second Level Domain) – The main part of the domain, usually displaying the brand name or service name, for example, in the domain name "www.peace.com"
peace is SLD,
.com is a TLD.
Together, these two parts make up a fully qualified domain name, which serves as a unique identifier for a web resource on the Internet.
Can I buy and register a domain?
Anyone can purchase a domain name without any difficulty. What's more, you can register a domain even if you don't have a website. Many people and companies do this for future use, to protect their desired domain name before someone else does. Domain names can be registered and purchased from registrars (ICANN authorized naming and numbering companies, one of which is AlexHost.com).
To buy and register a domain, you need to follow these steps:
go to

AlexHost.com, go to the domain names section

(

https://alexhost.com/domains/

)

choose a domain name that is easy to remember, write, and relevant to your business (remember: short domain names are usually easier to remember, this is also very important!)

find out if your desired domain name is available with the check tool. We recommend using the WHOIS directory (

https://www.whois.com/whois/catalog.com

), which is a publicly accessible data directory containing information about already registered domain names and the persons or organizations that own them.

some domain names may not be available for purchase because they may already be registered by someone else, so you may need to select a different domain name or consider other alternative TLD values.

choose AlexHost.com as a reliable domain registrar that will take care of your registration, place an order: https://alexhost.com/domains/
after paying for the order, AlexHost.com will provide you with the DNS settings that you need to configure in order to associate your domain name with the web resource
after completing the above steps, you will successfully register your domain name.
IMPORTANT!

you will need to renew your domain registration when it expires in order to continue using it.
What are IDN domains and where are they used?
IDNs or internationalized domain names containing non-Latin characters such as Arabic, Chinese, or Cyrillic. This allows native language domain names to be used, which empowers and makes the Internet more accessible and convenient for non-English speakers.
How many years can I own a domain?
Most often, the term of ownership of a domain name is directly tied to the terms of the contract with the registrar company. As a rule, one year of ownership of a domain name is taken as a basis, with the possibility of annual renewal.
It's important to keep an eye on your domain name's expiration date and renew it in a timely manner so you don't lose it. The Alexhost.com team always takes care of their customer as well, and we notify our customers in advance of the deadline for completing the registration date. What is also important in the relationship between the client and our company.
Can I transfer the purchased domain to another hosting service provider?
You can transfer a domain name from one hosting provider to another without any problems, unless there is a minimum period for keeping a domain with a registrar, and it is at least 60 days. This process usually involves a sequence of several steps, including unlocking the domain name, obtaining an authorization code, and providing the new registrar with information and the right to transfer.
Before transferring a domain, it's important to research and compare the features and prices of different hosting providers to make sure you're making the decision that best suits your needs. It is also important to carefully read and understand the terms and conditions of the new hosting provider to ensure that you are aware of any restrictions or requirements for using their services.
Once you have decided to transfer your domain to a new hosting provider, you will usually need to initiate the transfer process through the new registrar. The new registrar will then take over the transfer process and provide you with any additional information or instructions you need.
It is important to note that the domain name transfer process can take several days, during which time the domain may be unavailable or there may be temporary downtime.
Our company is ready to provide you with such a service, we will take care of high-quality service, offer the most convenient and favorable conditions. You can find the service on our website: AlexHost.com
How to properly secure your domain name?
It is important to take a few steps to help you secure your domain name:
monitor your domain name, check your domain name regularly to make sure it is being used for its intended purpose and not being used for any malicious activities.

be vigilant against phishing and other cyber threats.

if your domain name is a trademark, consider registering it with the appropriate authorities to enhance your legal protection.
By following these important steps, you'll protect your domain name and make sure it's a safe asset to your business and online presence.
Conclusion
In closing, a domain name is a critical aspect of your online presence and it's important to choose a domain name that accurately represents your brand and is easy to remember.
You can buy a domain from various registrars, including AlexHost.com. We offer a range of domain name options, as well as web hosting and email services, to help you easily set up and manage your online presence.
Whether you're starting a new business or launching a personal website, owning a domain name can help you reach your target audience and establish a strong online presence.